Description
The Brothers site is Oregon's premier launch site for large, complex and high altitude rocket projects. The site offers large, open space The location is sufficient in size to support several hundred flyers and spectators.
Quote from Rockets Magazine: One of the best kept secrets in rocketry is the launch site in Brothers, Oregon. The secluded location is perfect for high-power action that screams into the clear blue skies. You are truly committed to the hobby when you launch rockets with the Oregon Rocketry folks. One of the first questions a newcomer would ask is "How much recovery room do you have here?" Inevitably, the answer always comes back as another question, "How much do you need?"
Location
The launch site is located at 4,500 feet MSL (mean sea level) and approximately 5 miles southwest of Brothers, OR. Brothers is approximately 40 miles East of Bend, OR.
Facilities
Water: no available water (last location for water is 40 miles from the site)
Electricity: no
Sewer/RV Dump: no
Porta-potties: Yes, brought in for launches
Cellular Service: Yes
Food: No onsite food vendors
Gas: Closest gas is approximately 40 miles away, in Bend.
Other: Rest rooms (with running water!!!) and limited supplies (beverages, ice and things like ice cream bars) are available in Brothers at the rest
stop and small country store.
Restrictions
Fires: Campfires are only allowed in the two established fire rings on site. Many of us gather around the community fire ring each evening. No burning of sagebrush as firewood is allowed. Bring your own firewood.
Fireworks: No fireworks allowed.
Flight Waivers
Normal launches have an FAA waiver of 20,500′ AGL with windows to 42,280′ AGL. Please check for further details at each launch.
Reference Map
The access road is almost exactly 5 miles East of HWY 27: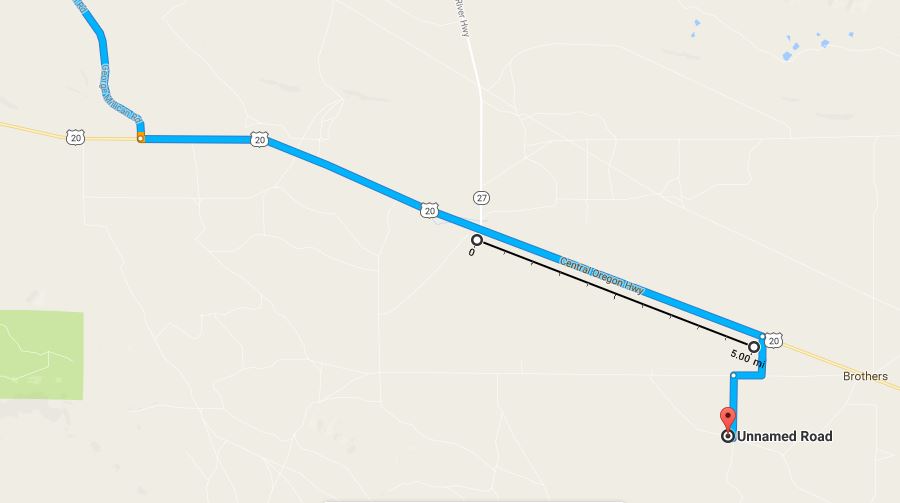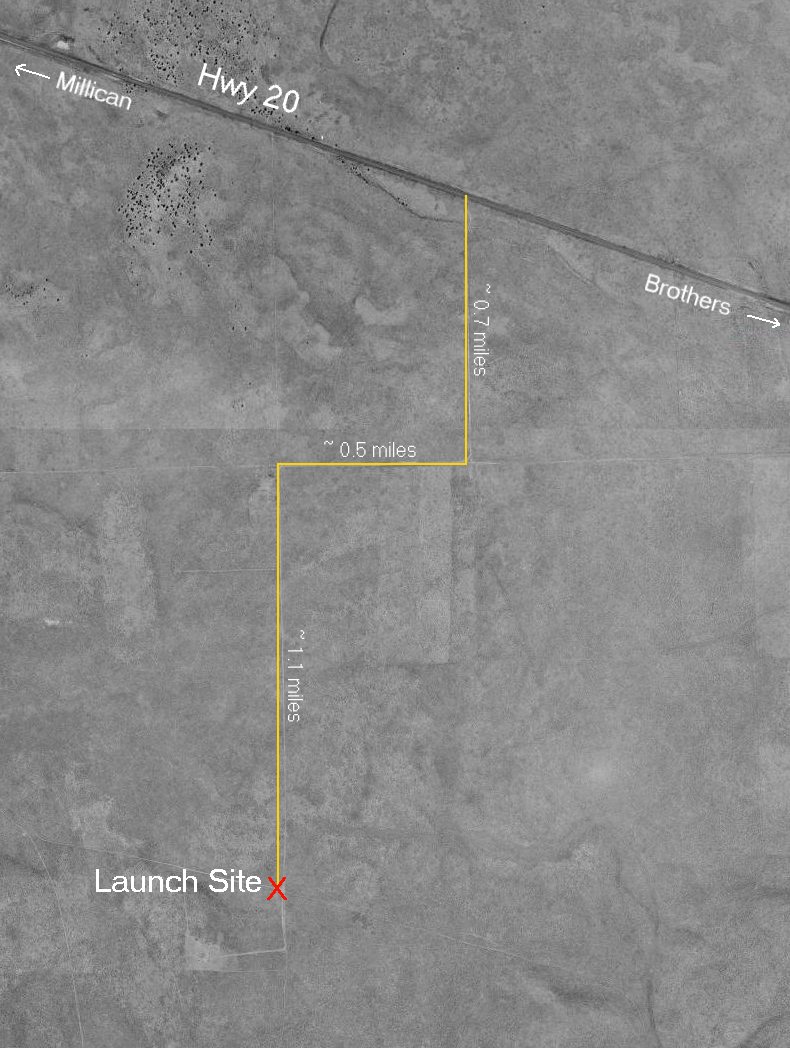 Maps and Directions
Brothers is 40 miles from the last "cheap" gas and water. Please be equipped to handle any auto mechanical difficulties you may have. The last 2 miles from the highway is unimproved road; a car with decent ground clearance is highly advised.
Environment
Flying season temperatures average from a low of 45 to a high of 95, with extremes from 30 to 110 degrees. Winds average 5-15 mph, lower in the AM or mid-day, with peaks to 25 mph, and higher with local wind-devils or squalls. Be prepared for wind: use sturdy canopies & tents, with guy lines. There is a neglible chance of rain. However, if it does rain, it could be heavy.
Most of the surrounding area is dry, sage covered scrub land. The terrain is slightly rolling, with few fences.
Do not capture or disturb local wildlife under any circumstances. Ticks can also be an issue – please be aware of mitigation & inspection procedures.
Current Web Cam View and Weather Conditions