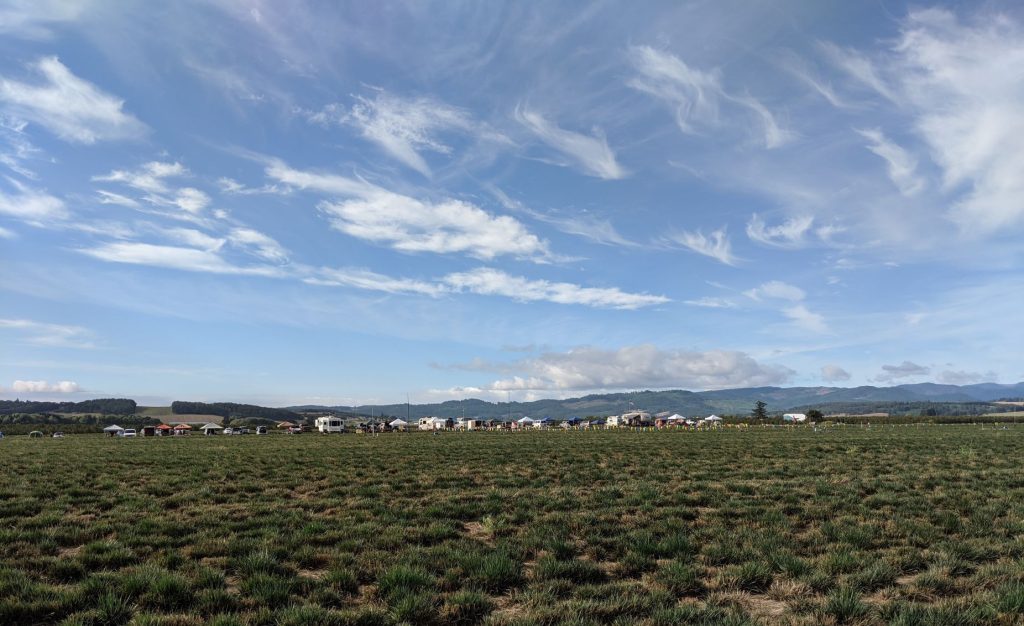 Site Description: The Sheridan site is located about 45 miles SW of Portland, Oregon. OregonRocketry FAA waiver to launch to 5,400 feet AGL. Lodging is available nearby McMinnville. Toilet facilities and unimproved camping are available onsite.
Directions to Sheridan Launch Site:
From Mcminnville go south on Hwy 99, 4 miles south of Amity turn right (west) at the McCoy/Lincoln Junction (blinking yellow light) onto Bethel Rd. From south of the launch site, take 99 north from Hwy 22 for 7.5 miles, to the same junction, turn left (west) onto Bethel Rd.
In 2.5 miles, you will pass through the small community of Perrydale (Perrydale School on left), Continue straight (now on West Perrydale Rd.) out of town and begin to look for event signage. Specific launch field location will vary from year to year but will be located anywhere from 1/2 mile west of Perrydale to 2 miles out West Perrydale Rd. Again, event signage will be posted on West Perrydale Rd. to guide you.
Please pay attention to the speed signs in Perrydale, the intersection is a 2-way stop and cross traffic can be a surprise.
Once off-road in the launch field, please follow signs, be gracious, and don't speed, this is someone else's land.
Here is a reference map of the area where the launch site will be set up. Once you are headed west from Perrydale, just look for signs pointing you to the flight line:

Description
Sheridan is one of OregonRocketry's most fortunate launch sites. Landowners graciously allow us to hold a launch event there in September after crops have been harvested. Because of the closeness to Portland metro area, these launch events have grown to be the biggest event of the year, routinely seeing 200+ registered attendees. With an FAA waiver to 5,400 feet AGL, this is a great place for model, mid power and high power rocketry.
Location
Sheridan launch site is located approximately 7 miles Southeast of the city of Sheridan, OR.
Facilities
Water: no available water
Electricity: no
Sewer/RV Dump: no
Porta-potties: Yes, brought in for launches.
Cellular Service: Yes
Food: Food vendors aren't usually at the launch (we've tried in the past with mixed success).  The nearby cities of Sheridan and Dallas offer grocery and restaurant choices.
Gas: The nearest gas station is approximately 10 miles from the site in Sheridan.
Restrictions
Fires: No open fires allowed.
Fireworks: No fireworks allowed.
Flight Waivers
5,400 feet AGL' waivers are typical.
Environment
Flying season temperatures average from a low of 40 to a high of 80, with extremes from 20 to 95 degrees. Winds average 0-5 mph, lower in the AM or mid-day, with peaks to 15 mph. There is a negligible chance of rain during summer months. Winter months are very likely to have overcast and light drizzle.
The field is north of a paved country road and offers plenty of room for recovery. Certain times of the year may have crops in the field that make recovery more challenging.